How does KhooCommerce help you implement LPR (Licence Place Receive) as an Amazon Vendor?
As an Amazon Vendor, you may have been approached by your Vendor manager or Amazon support to implement LPR (License Plate Receive). Amazon have a complete document detailing their full specifications and FAQs related to license plate receive, which can be downloaded from Amazon Vendor Central -> Support -> Resource Centre -> Operations -> Express Training - License Plate Receive.
What is License Plate Receive (LPR)?
License Plate Receive refers to an industry-wide standard for receiving inventory into a warehouse. In January 2018, Amazon began encouraging Vendors to move to LPR to help inventory being received into their warehouses. Without LPR, inventory is unpackaged and repacked to confirm the contents of every carton or pallet. This is the inefficiency Amazon are looking to address through asking Amazon Vendors to implement LPR.
In short, License Plate Receive improves label generation and helps reduce chargebacks relating to Amazon receiving the goods into stock.
LPR for Amazon Vendors requires labels to be generated in a particular way, with a unique SSCC (Serial Shipment Container Code) on each pallet/carton.
Why is this important for Amazon Vendors?
LPR is important for Amazon Vendors as reduces the errors in inventory being received and the need for disputes of chargebacks/fees. Additionally, it reduces the inboard stowage time, resulting in better availability of your products.
Finally, your metric 'Fewer Purchase Quantity Variances' (PQV) will be improved as you'll have a greater degree of accuracy around the orders you're processing and having received into Amazon.
How does KhooCommerce help you implement LPR as an Amazon Vendor?
KhooCommerce is an EDI solution for Amazon Vendors, allowing Vendors to process Amazon orders outside of the Vendor Central platform.
As part of our EDI implementation, we are now helping Vendors comply with LPR through improving their label generation and working with their shipping provider to contain all shipment information on compliant labels.
Labels can be generated by the KhooCommerce software, linking with your chosen shipping provider.
Labels are generated at the point of sending the ASN
Your Shipping Provider integration (i.e. DPD) provides the carrier routing barcode.
Labels contain your SSCC (Serial Shipping Container Code) to help Amazon receive your order.

Label fields include: ASIN/UPC, quantity, expiration date and lot number (if applicable) of the ASIN/UPC
SSCC labels at the pallet level will work as long as it is a single ASIN pallet. If it is a multi-ASIN pallet, vendors will still need to provide SSCC labels at the carton level.
Shipping labels then look like this: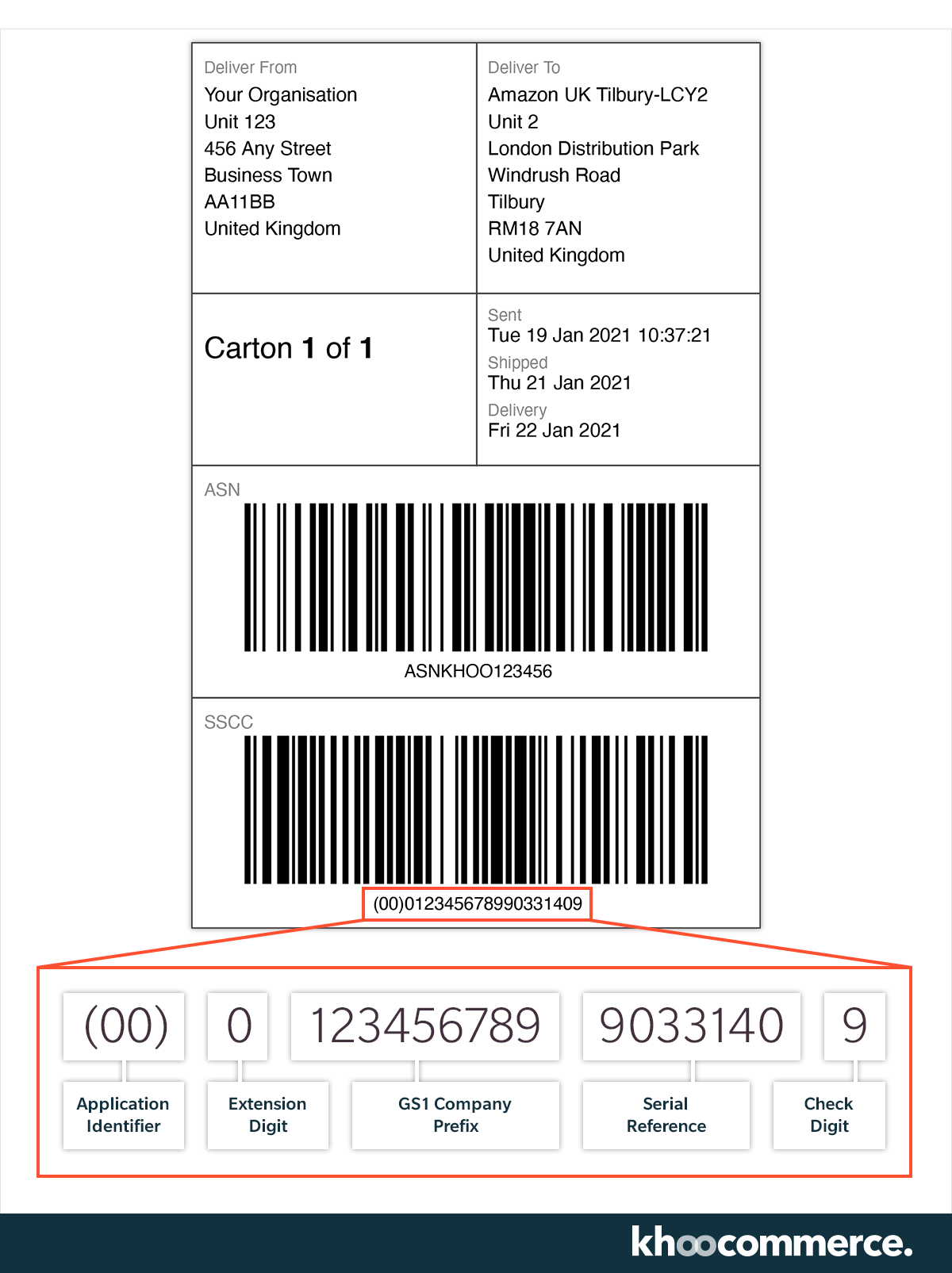 Can you have a solution for LPR without EDI?
Yes, making shipments through the Amazon portal and the resulting Amazon Container Codes (AMZNCC) are LPR-compliant, too. However, these barcodes and labels will look different to the above label. Also, Amazon recommends the use of EDI and therefore SSCC codes over their own AMZNCC codes as SSCCs are a GS1 Standard code used across freight generally and tend to result in higher compliance.
Most of the challenge that businesses tend to experience is the sheer time that it takes to input all the information of the carton packing into the Amazon portal. For this, you can either use their spreadsheet upload tool, or use a system like KhooCommerce which allows your warehouse teams to automatically and rapidly pack items straight into boxes and generate the labels from the system directly.
Can we help?
If you'd like to know more about LPR and how you can comply as an Amazon Vendor, simply get in touch with our team who would be happy to talk to you.