How does KhooCommerce help you implement LPR (Licence Place Receive) as an Amazon Vendor?
As an Amazon Vendor, you may have been approached by your Vendor manager or Amazon support to implement LPR (License Plate Receive).
What is License Plate Receive (LPR)?
License Plate Receive refers to an industry-wide standard for receiving inventory into a warehouse. In January 2018, Amazon began encouraging Vendors to move to LPR to help inventory being received into their warehouses. Without LPR, inventory is unpackaged and repacked to confirm the contents of every carton or pallet. This is the inefficiency Amazon are looking to address through asking Amazon Vendors to implement LPR.
In short, License Plate Receive helps Amazon receive the goods into stock efficiently.
LPR for Amazon Vendors requires labels to be generated in a particular way, with a unique SSCC (Serial Shipment Container Code) on each pallet/carton.
What is Each Receive (ER)?
Each receive refers to when an Amazon Vendor PO is received on the level of the item. This means that an employee at an Amazon FC has to open the package and scan each item individually. This is only needed when the labels fail to scan, or there is a problem solver solution required.
What is Efficient Receive? (Confusingly, this is sometimes also called "ER" by documentation).
Each receive refers to when an Amazon Vendor PO is received on the level of the package. This means that an employee at an Amazon FC was able to scan the external barcode of the label and receive the entire package efficiently.
What is AMZNCC?
AMZNCC (Amazon Container Code) are the barcodes on labels that are generated within Amazon's own Portal. these are also technically license plate receive compliant, however there is a large risk of manual data entry, and labelling, associated with going in and out of the Amazon portal.
KhooCommerce offers the ability to scan items directly into boxes, pack them, and print the labels, without the need to double enter the data. Send us a message if you would like to see how this works!
How is SSCC superior to AMZNCC?
There are a few ways in which SSCCs are superior to AMZNCC labelling:
Single Data entry - The data is only captured once when the packers are packing the items, meaning that they don't need to write it on paper, then give that to a separate user to enter, and receive back the labels. This is much faster, and with less room for error.
Single label rather than two. With SSCC labelling, we are able to combine the ASN and AMZNCC label into one label. This means only one amazon label, and a carrier label, rather than two Amazon labels.
Fewer Receive problems. This is purely anecdotal, but Vendors that shift to SSCC report fewer shortage claims than when they were using AMZNCC. (if you want to know more, please talk with us).
Faster application of label. Because there is no delay between packing and sending the ASN, its possible for packers to print the labels for the cartons as soon as they finish packing the shipment.
Integration to carriers. Through KhooCommerce it's also possible to integrate to carriers as well as to Amazon. This means the packing teams can print both the Amazon Vendor SSCC carton label and the carrier label from the same place, which is faster and more accurate.
If you're frustrated with a slow ASN and SSCC process, please talk with us - we'd love to show you how our software helps.
Why is this important for Amazon Vendors?
LPR helps Amazon Vendors in a number of ways:
More accurate inbound process. This means your orders have fewer shortages and your invoices get paid in full, faster.
Faster inbound in Amazon's FCs - this means your products are made available sooner with fewer issues.
Faster dispatch time from your warehouse
Accurate Carrier integration (if used) can help with tracking information and Proof of Delivery disputes
Using AMZNCC, data is kept only 90 days, giving a limited window to dispute and provide evidence for shipments. Using LPR in an external system preserves this information meaning you are resourced to dispute issues more than 90 days old.
How does KhooCommerce help you implement LPR as an Amazon Vendor?
KhooCommerce is an EDI solution for Amazon Vendors, allowing Vendors to process Amazon orders outside of the Vendor Central platform.
In addition to the help KhooCommerce provides on order management, shipment labels can be generated by the KhooCommerce software, linking with your chosen shipping provider.
The typical flow is like such:
Admin teams process orders.
Warehouse workers receive orders and begin packing. This can be from a tablet or a packing bench. (See more - scan to box)
ASN is completed and packing finalised.
Shipping Provider integration (i.e. DPD) provides the consignment number.
ASN is sent to Amazon
Carton labels are printed, for both SSCC and Carrier label. The SSCC label is the part that enables LPR.
Label fields include: ASIN/UPC, quantity, expiration date and lot number (if applicable) of the ASIN/UPC
Below is an example label with the SSCC code that Amazon would use to receive your package. The code is made up of many parts (it's not just a random number) and must be unique in the last 12 months. For more information, You can read the GS1 document that explains how SSCC codes are generated here.
See more -> SSCC vs AMZNCC vs GTIN receive, which is right for me?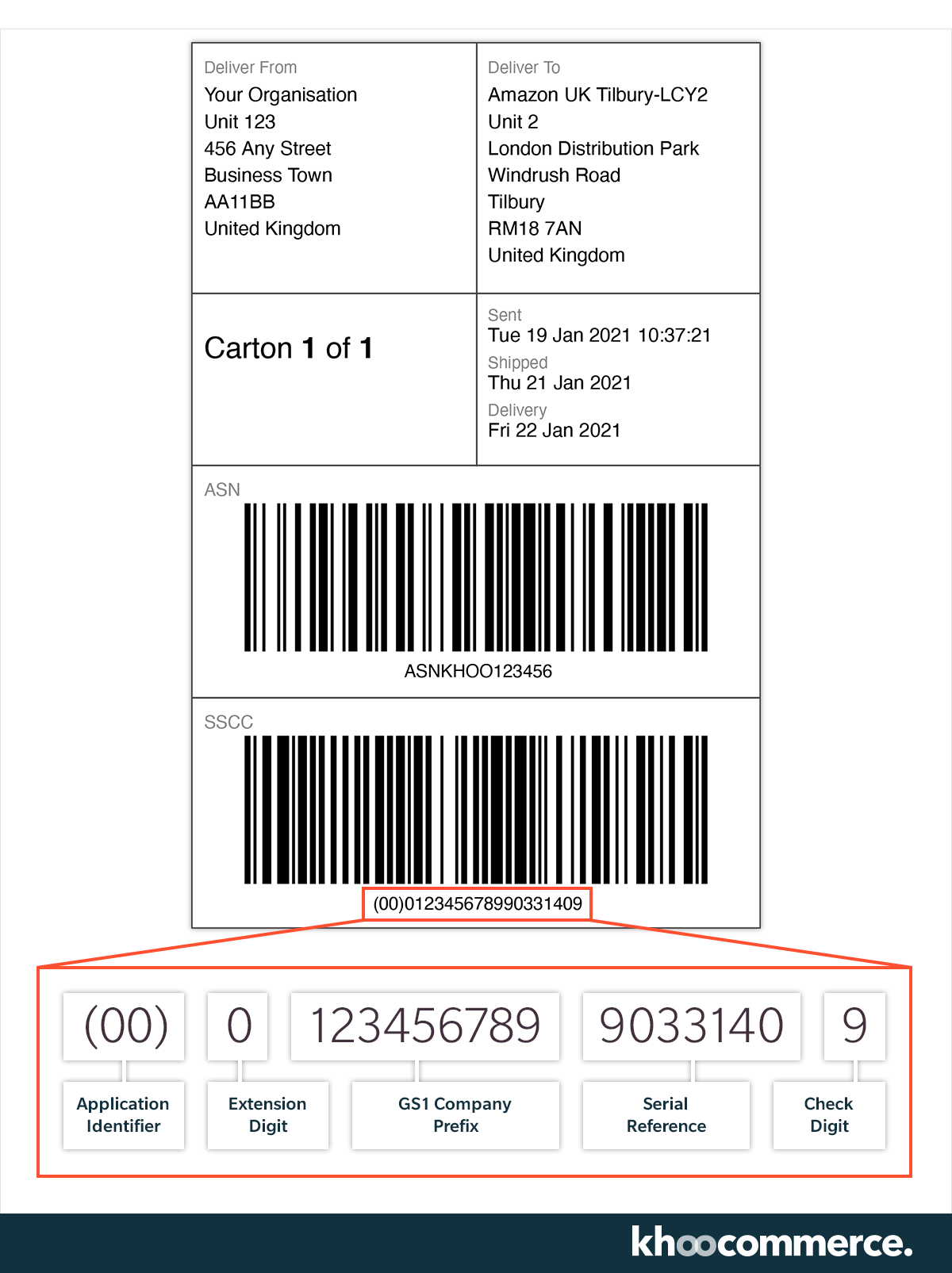 Can you have a solution for LPR without EDI?
Yes, making shipments through the Amazon portal and the resulting Amazon Container Codes (AMZNCC) are LPR-compliant, too. However, these barcodes and labels will look different to the above label. Also, Amazon recommends the use of EDI and therefore SSCC codes over their own AMZNCC codes as SSCCs are a GS1 Standard code used across freight generally and tend to result in higher compliance.
Most of the challenge that businesses tend to experience is the sheer time that it takes to input all the information of the carton packing into the Amazon portal. For this, you can either use their spreadsheet upload tool, or use a system like KhooCommerce which allows your warehouse teams to automatically and rapidly pack items straight into boxes and generate the labels from the system directly.
I'd like to setup LPR, what do need to do?
The core of any system that enables you to use License plate receive must have the following requirements in bold. However we offer so much more than just LPR, as Amazon Vendor requires dedicated systems to manage their requirements.
| | | |
| --- | --- | --- |
| Requirements | KhooCommerce - Amazon Vendor Focus | Other Systems |
| Capture Carton Data | ✅ | ☑️ |
| Send ASN message | ✅ | ☑️ |
| Integrate to Carrier | ✅ | ☑️ some |
| Print Labels | ✅ | ☑️ |
| Aggregate POs into one ASN | ✅ | |
| Split POs into many ASNs - multiple Truck Load | ✅ | |
| Track warehouse user activity | ✅ | ☑️ some |
| Predict chargeback causing SKUs | ✅ | |
| Full Amazon Vendor Order management system | ✅ | |
| Automatic Invoicing after ASN | ✅ | |
If you'd like to know more about LPR and how you can comply as an Amazon Vendor, get in touch - we'd love to hear from you.
Is there any more I can read on this?
Amazon have a complete document detailing their full specifications and FAQs related to license plate receive, which can be downloaded from:
Amazon Vendor Central -> Support -> Resource Centre -> Operations -> Express Training - License Plate Receive.
"It's easy for the teams to manage shipments, and the packers can login and start scanning items and printing labels. We'd struggle to operate at this scale without it."

- Ops Manager from$1m/month company (read more)
Book a call with us today!
"The shipment process is ... amazing. We have all the detail in one place and I don't need to go into VC to manage it anymore. Having the UPS integration on Collect Shipments has really helped us a huge deal."

- USA Collect vendor with a UPS integration (read more)