Amazon Vendor ASN Creation Options: Everything you need to know
Key Takeaways:
If you send single SKU cartons, use GTIN receive (via GDSN) or "Single SKU (AMZNCC)" option.
If you send mixed SKU cartons, use EDI+SSCC with a system like KhooCommerce.
GTIN data pool providers can be expensive, so the larger you are the more GTIN receive will be viable. (Typically >£100K Sales/month
ASNs are needed for all shipments to avoid charges with Amazon
If you spend lots of time on paperwork, get in touch to see if we can help
Typically we'd advise these guidelines:
All options can be used in each case but typically these options save the most time compared to the others and offer a good cost/benefit compromise.
<10POs/week
10-50 POs / Week
>50 POs /week
<50 SKUs
Single SKU cartons / GTIN14 Labels

Single SKU cartons / GTIN14 Labels

Consider EDI for end-to-end process

Single SKU cartons / GTIN14 Labels.

EDI recommended for end-to-end process

50-500 SKUs
Mixed Cartons or Spreadsheet AMZNCC

Mixed Cartons or Spreadsheet AMZNCC

Or SSCC / EDI

SSCC / EDI ideally
>500 SKUs

Mixed Cartons or Spreadsheet AMZNCC

Or SSCC / EDI

SSCC / EDI ideally
SSCC / EDI ideally
Detailed Breakdown
Here's a more detailed breakdown of each option and the pros/cons of each option.
Option1: Print through Vendor Central
Vendors can create the ASN and labels directly within the Amazon Vendor portal. This option is largely unchanged to the current process, but there are a series of new features in Vendor Central to facilitate Single-SKU cartons. The spreadsheet has been improved to facilitate the Box-ASIN pairing process.
N.B. If you are finding this is a very slow process for you then KhooCommerce might be able to help streamline this for you. Mixed cartons and large orders can result in a lot of paperwork.
Option 2: Print own labels and provide SSCCs
A new series of screens that allow vendors to: Enter the SSCCs into a text box, and assign the PO-ASIN-Qty to a specific SSCC, or Use GTIN Labels (requires an updated GDSN database synchronisation with Amazon). You will need to create and assign your own SSCCs (see below detail on how to do this).
Option 3: Send Carton Level Info via EDI
If you have the carton level information stored in an internal system like KhooCommerce, you could transmit this over EDI and include the SSCC in the GIN+BJ segment of the DESADV message. Labels produced in this way are called SSCCs not AMZNCCs. Businesses using GTIN labelling can also use EDI but must include information at the pallet level only, meaning you create a pallet SSCC not a carton SSCC.
This option is ideal for businesses that send mixed cartons with varying contents - for example if you have boxes that contain lots of individual products in varying amounts each shipment. Typically you have a large catalogue range and small products. Please get in touch to learn if this could help you.
KhooCommerce uses tablets and barcode scanners to assist with picking and packing processes in the warehouse. This can lead to a paperless experience and printing carton labels directly from the warehouse floor.
Option 4: Use GTIN labels / GDSN / GTIN Receive
GTIN labels are great for companies that sell predefined GTIN units to Vendor central, that have the barcode (EAN13 or ITF14) already printed on the carton. The main benefit of GTIN Receive is that you don't need to re-label each carton going to Amazon. The main drawback is you can't send variable mixed cartons. For example, you can send a box of Item1, qty 12. You could also send a mixed box with item1, qty6 AND item2, qty 6, provided that mixed box has its own Unique GTIN code defining the internal items. However if you send mixed boxes that vary in their contents, you need to use AMZNCC or SSCC.
To use GTIN receive, you will need to get setup with a data pool provider as well as configuring this in your Vendor central portal. This process is also called the global data synchronisation network (GDSN), if you want to read more then see the GS1 article here. Most data pool providers charge based on your turnover, so expect to pay a few thousand per year in a synchronisation fee for this service. However if you currently pay for labour to re-label boxes, this might work out as a saving for you.
If you want to learn more about this option please get in touch and we can discuss how we can support you. This is usually the best option for businesses that are selling large amounts of Single SKU product and not sending mixed cartons.
Method
Benefits
Drawbacks
Print Via Vendor Central AMZNCC

Familiarity with current process.

Built into Vendor Central

Spreadsheet upload option can be helpful.

Cheap compared to GTIN receive (but need to label each box)

Have to assign each AMZNCC to the correct line.

Spreadsheet also needs to be collated from internal pick/pack lists.

Paperwork is still high - delay while admin create the ASN.

Make SSCC in Vendor Central

A way to implement License Plate Receive.

Complies with GS1 standards of Barcoding.

Means you can print your own SSCC labels internally from your own systems.

Have to create and assign SSCCs to each carton manually.

Still have to replicate the carton level information on this stage.

No Spreadsheet upload at this stage.

Paperwork is still high - delay while admin create the ASN.

Send SSCCs via EDI

Automatically capture Carton Level Information.

Combine several POs together in one shipment.

Fully License-Plate Compliant.

Reduced Paperwork - more electronic.

Greatly reduced work for Administration.

Requires investment and setup to implement systems.

Process change will be new to staff.

Often requires new technology in the warehouse.

GTIN Receive

No need to re-label each carton

Good if your products already have the EAN on the box you bought them in.

Usually you subscribe to data pooler organisation, ca £2K-10K/year

Unable to send varying mixed cartons

Cannot use this partially. Your entire catalogue must be standardised.

Requires accurate and up to date GDSN maintenance and product information management.
A note on Carton Information Compliance:
If you use the incorrect labels, or the labels are unreadable, then this will incur a chargeback at £0.12, per SKU received. Ie. 48 units in one box = £5.76 chargeback.
What is an SSCC Code?
SSCCs are a GS1 standard that capture the carton type, sender and a unique reference. Unlike the GTIN label, knowing an SSCC Code does not tell you what the items in the box are - but the SSCC is attached to the Carton level information as part of the wider DESADV message through EDI, such that the receiver (Amazon Vendor) can receive the carton with one scan.
You can read the GS1 document that explains how SSCC codes are generated here.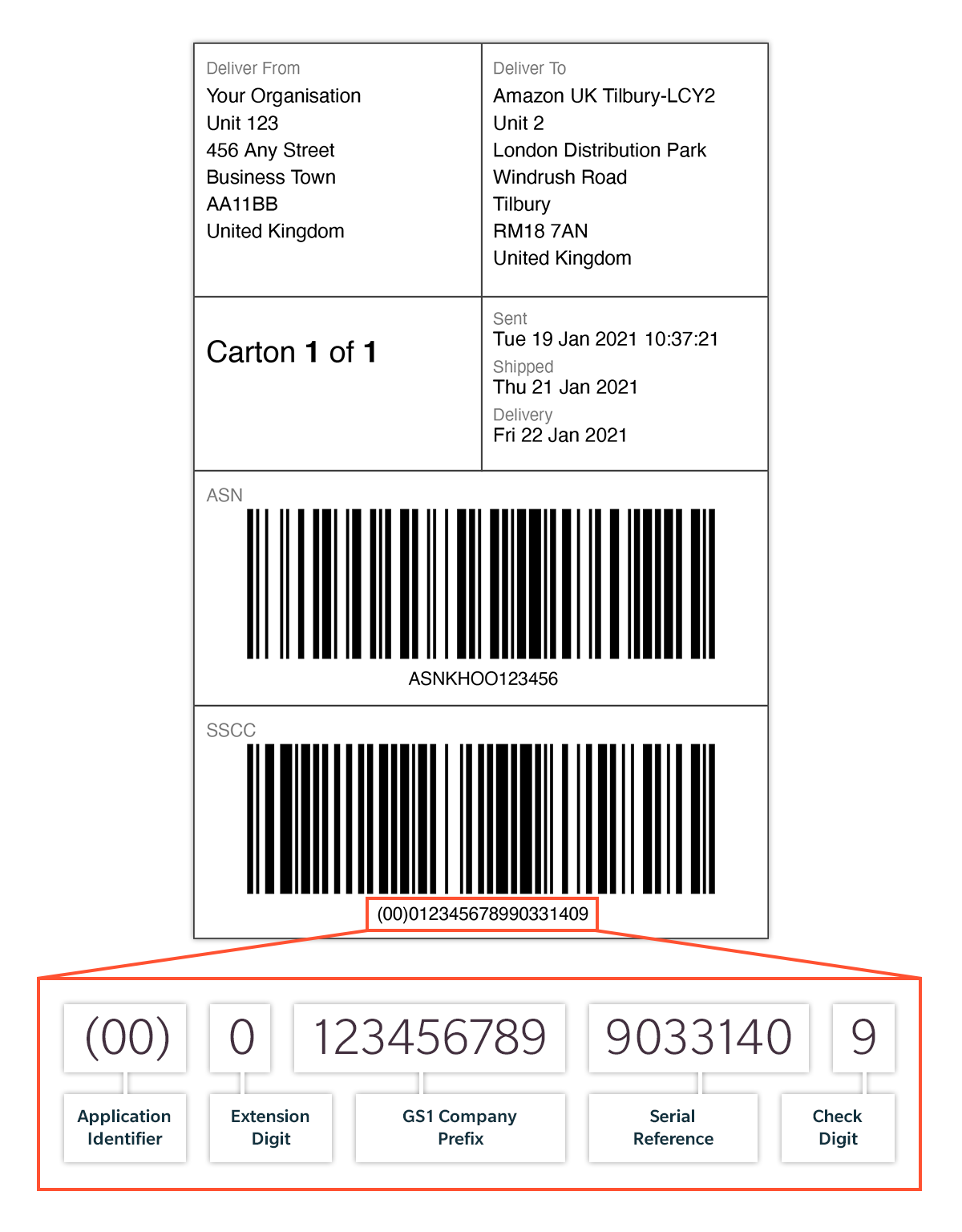 What are the advantages of using EDI/SSCC?
Switching to a fully integrated system of EDI and SSCCs can dramatically improve your operational speed and agility. Customers using KhooCommerce have benefited from not just increased speed of process but also reduced chargebacks and fewer shortage claims.
SSCCs themselves do not provide a magic solution to the issue of charges. It's the underlying software that is helping with the box packing, the cartonisation, the SSCC generation and label production that makes it all work so well. That's available in KhooCommerce out the box. If you want to know more please just get in touch with us and we'd love to talk with you!
I'm using the Collect / WePay Programme. How does it work in this case?
If you are using the Collect programme (also called "WePay") then you will need to route your shipments as well as pack them and send the ASN. This involves specifying the number of cartons, pallets, total weight, volume and pickup date to Amazon ahead of the shipment being sent. This Routing Request (EDI 753) must be sent first, then the associated ASN can be sent once the routing instructions have been sent back.
One of the frustrations that vendors on the collect programme face is the long delay between submitting the routing request and the response coming back - sometimes more than 24hours and sometimes up to 48hours. This can mean that boxes are left un-labelled for a long period of time.
With KhooCommerce there are two options - either route before packing or afterwards. But if you route after packing, you will be able to print the SSCC label for each box, even before the carrier has been assigned. This means that packers can take an order, process it, pack it, route it, and print the labels in one go. Then all the packers have to do is to receive back the routing instructions and then send the associated ASN.
If you would like more information about how this could work for you please get in touch with us and we'd be glad to talk with you!
What are typical chargeback amounts?
£0.12 per unit adds up very fast, particularly if you are selling high volume, low value products, this could be a large amount of the margin you operate over. By contrast, products that are £100s in value will not be too impacted by this.
Most vendors we work with were struggling with between £200 to £2500 / month in Carton Level Compliance issues. These dropped to 0.001% once they implemented KhooCommerce.
Without EDI, you still have to assign PO-ASIN-SSCC combinations manually or in Excel
While the new changes in Vendor Central are great for improving receiving accuracy, these changes are actually going to increase the workload of Vendor Admin teams and provide another route for error with Amazon. This means that the process is still very manual. Usually people have printed pick lists, with notes on it which items are in which box - you will still have to have this and upload this to Vendor central but now you have an extra step - include the SSCC Code instead of the AMZNCC code. You may want to use the spreadsheet, but then you still need to populate the workbook.
Through KhooCommerce, Go straight from Pack -> SSCC + LPR Compliant Label. No Paperwork!
We know that Paperwork is slow and delays shipment. We have a tablet-friendly shipping screen that helps your warehouse pack and print the labels in one clean step. Simply choose the POs, and the SSCCs are generated automatically, as well as the LPR-Compliant Labels!
Your packing teams can pack the items, use the iPad to create the shipment and print the label immediately. This means there is no extra paperwork, no delay back to administration, and no lost boxes! If you use Barcode scanning, there are a few options available to help create the shipment from the scanner output.
This saves you time as well as complying with Amazon's new requirements.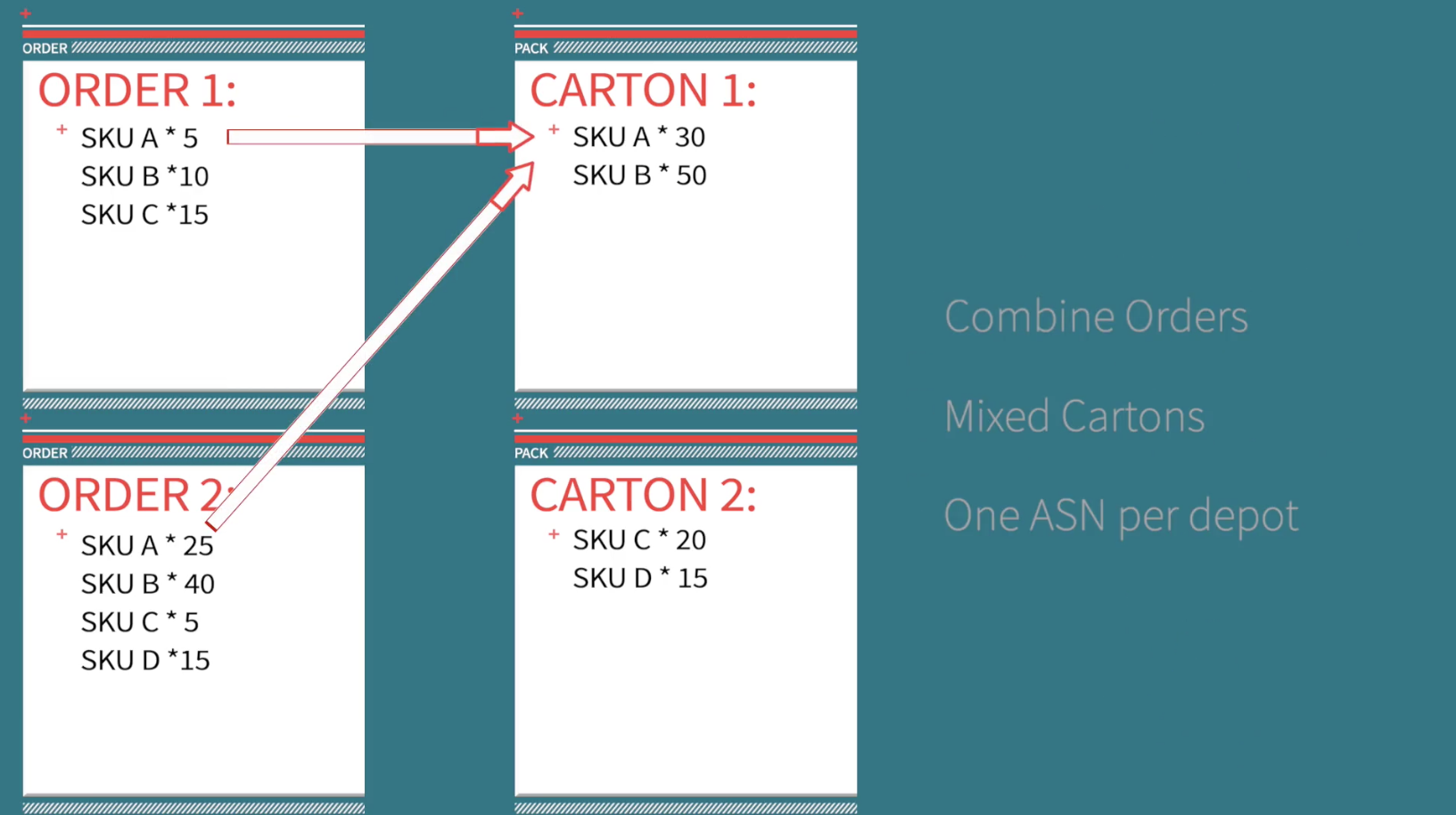 This consolidation is a great feature of KhooCommerce!
If you're not sure what is right for you, ask these questions:
How much would £0.12/unit impact your profitability?
Is your catalogue wide or narrow ranging? Typically, the wider your catalogue, the higher the need for mixed cartons.
How much time do you currently spend on making ASNs? The larger the time spend, the higher the benefit of EDI.
How much do you suffer with shortage claims? The larger the claims, the higher the benefit of License plate receive.
How much would you benefit from sending mixed SKU and mixed PO cartons? (consolidated per FC). The more mixing, the more benefit there is to EDI.
How much do you, as a company, want to invest in Amazon Vendor as a medium-long term sales channel? The more you consider Amazon Vendor to be a long-term sales channel for you, the more EDI makes sense.
Are your cartons mixed SKUs or single? If single -> GTIN receive is your best option but you must weigh the benefit of not needing to re-label cartons vs cost of data pooler. If you send mixed, you must decide if SSCC/EDI or manual approach makes the most sense for you.
Want to see a better way of making ASNs? Get a demo of how we help Amazon Vendors.
ASNs can take a lot of time, but processing orders from start to finish can also take time in stock allocation and in invoicing, too. KhooCommerce helps Amazon Vendors take back control of the PO processing, and put you in control of the PO journey from start to finish.
We'd love to hear from you! Request a demo or sign up below to find out more!