Upcoming Amazon Vendor Central ASN/SSCC Process
Yesterday Amazon launched a series of new features to help Vendors produce ASNs and Carton Level Information with SSCCs. From February 1st 2021 Carton level information will become mandatory or else you will incur a chargeback at £0.05 (€0.06, $0.10) per unit.
Carton Level Information is required from 01.02.2021
Option1: Print through Vendor Central
This is largely similar to the current process, but there are a series of new features in Vendor central to facilitate Single-SKU cartons. AMZNCC remain unchanged from the current process. The spreadsheet has been improved to facilitate the Box-ASIN pairing process.
Option2: Print own labels and provide SSCCs
A new series of screens that allow vendors to: Enter the SSCCs into a text box, and assign the PO-ASIN-Qty to a specific SSCC, or Use GTIN Labels (requires an updated GDSN record with Amazon). You will need to create and assign your own SSCCs.
Option3: Send Carton Level Info via EDI
If you have the carton level information stored in an internal system like KhooCommerce, you could transmit this over EDI and include the SSCC in the GIN+BJ segment of the DESADV message.
Option4: Provide Shipment Info Only - Do not provide Carton Level Information.
This will incur a chargeback at £0.05, €0.06, $0.10 per SKU received. Ie. 48 units in one box = £2.40 chargeback.
Method
Benefits
Drawbacks
Print Via Vendor Central AMZNCC

Familiarity with current process.

New spreadsheet upload could be helpful.

Have to painstakingly assign each AMZNCC to the correct line.

Spreadsheet also needs to be collated from internal pick/pack lists.

Paperwork is still high - delay while admin create the ASN.

Make SSCC in Vendor Central

New way to implement License Plate Receive.

Complies with GS1 standards of Barcoding.

Have to create and assign SSCCs to each carton manually.

Still have to replicate the carton level information on this stage.

No Spreadsheet upload at this stage.

Paperwork is still high - delay while admin create the ASN.

Send SSCCs via EDI

Automatically capture Carton Level Information.

Combine several POs together in one shipment.

Fully License-Plate Compliant.

Reduced Paperwork - more electronic.

Greatly reduced work for Administration.

Requires investment and setup to implement systems.

Process change will be new to staff.

Often requires new technology in the warehouse.

Slightly increased work for warehouse staff.

Only send shipment information

Simple and Fast - could increase shipping speed and reduce VLT.

Suited to High Value, low volume, high margin products.

Incur substantial chargebacks per shipment.
What is an SSCC Code?
SSCCs are a GS1 standard that capture the carton type, sender and a unique reference. Unlike the GTIN label, knowing an SSCC Code does not tell you what the items in the box are - but the SSCC is attached to the Carton level information as part of the wider DESADV message through EDI, such that the receiver (Amazon Vendor) can receive the carton with one scan.
You can read the GS1 document that explains how SSCC codes are generated here.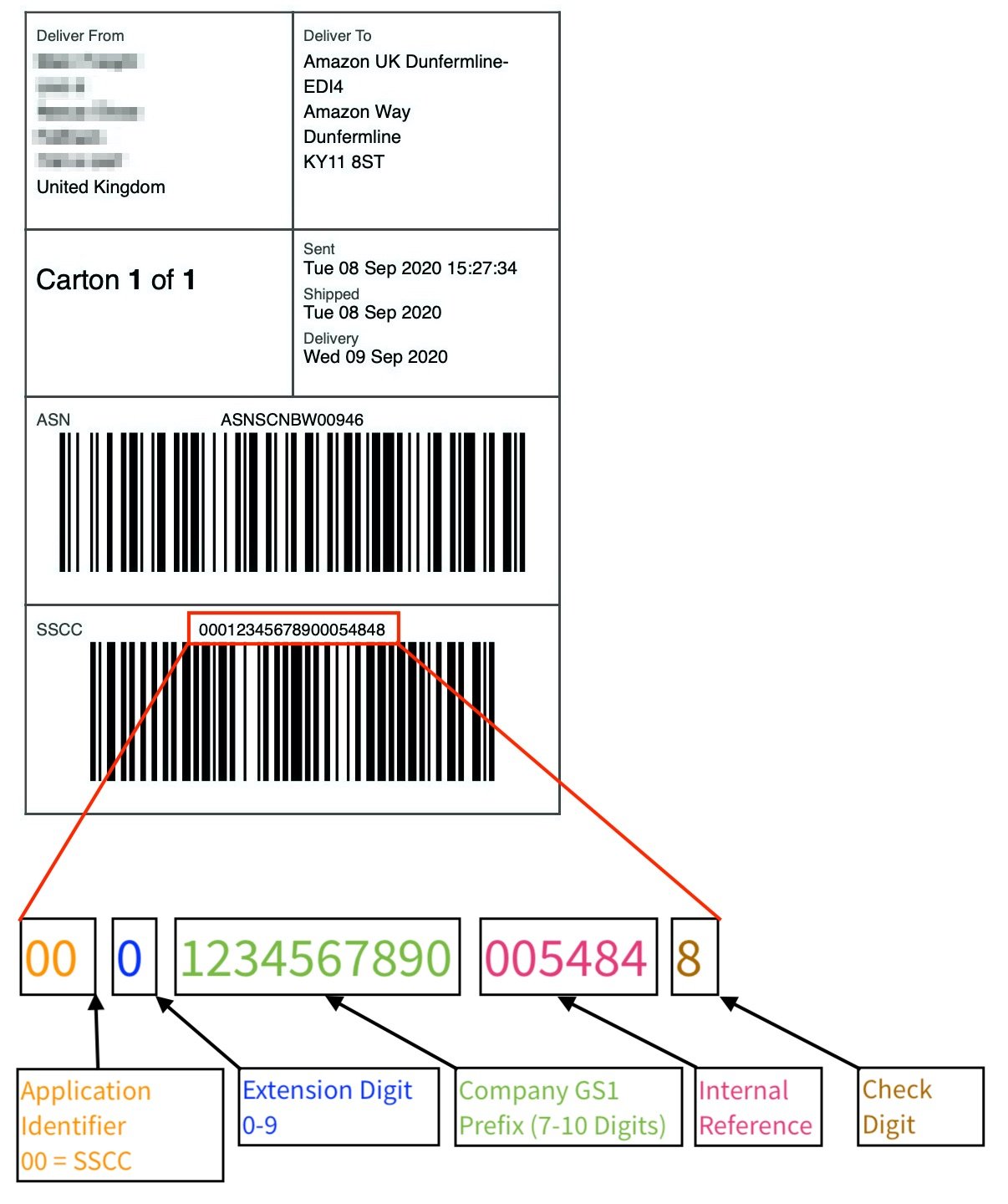 What are typical chargeback amounts?
£0.05 per unit adds up very fast, particularly if you are selling high volume, low value products, this could be a large amount of the margin you operate over. By contrast, products that are £100s in value will not be too impacted by this.
Most vendors we work with were struggling with between £200 to £2500 / month in Carton Level Compliance issues. These dropped to 0.001% once they implemented KhooCommerce.
Without EDI, you still have to assign PO-ASIN-SSCC combinations manually or in Excel
While the new changes in Vendor Central are great for improving receiving accuracy, these changes are actually going to increase the workload of Vendor Admin teams and provide another route for error with Amazon. This means that the process is still very manual. Usually people have printed pick lists, with notes on it which items are in which box - you will still have to have this and upload this to Vendor central but now you have an extra step - include the SSCC Code instead of the AMZNCC code. You may want to use the spreadsheet, but then you still need to populate the workbook.
Through KhooCommerce, Go straight from Pack -> SSCC + LPR Compliant Label. No Paperwork!
We know that Paperwork is slow and delays shipment. We have an Tablet-friendly shipping screen that helps your warehouse pack and print the labels in one clean step. Simply choose the POs, and the SSCCs are generated automatically, as well as the LPR-Compliant Labels!
Your packing teams can pack the items, use the iPad to create the shipment and print the label immediately. This means there is no extra paperwork, no delay back to administration, and no lost boxes! If you use Barcode scanning, there are a few options available to help create the shipment from the scanner output.
This saves you time as well as complying with Amazon's new requirements.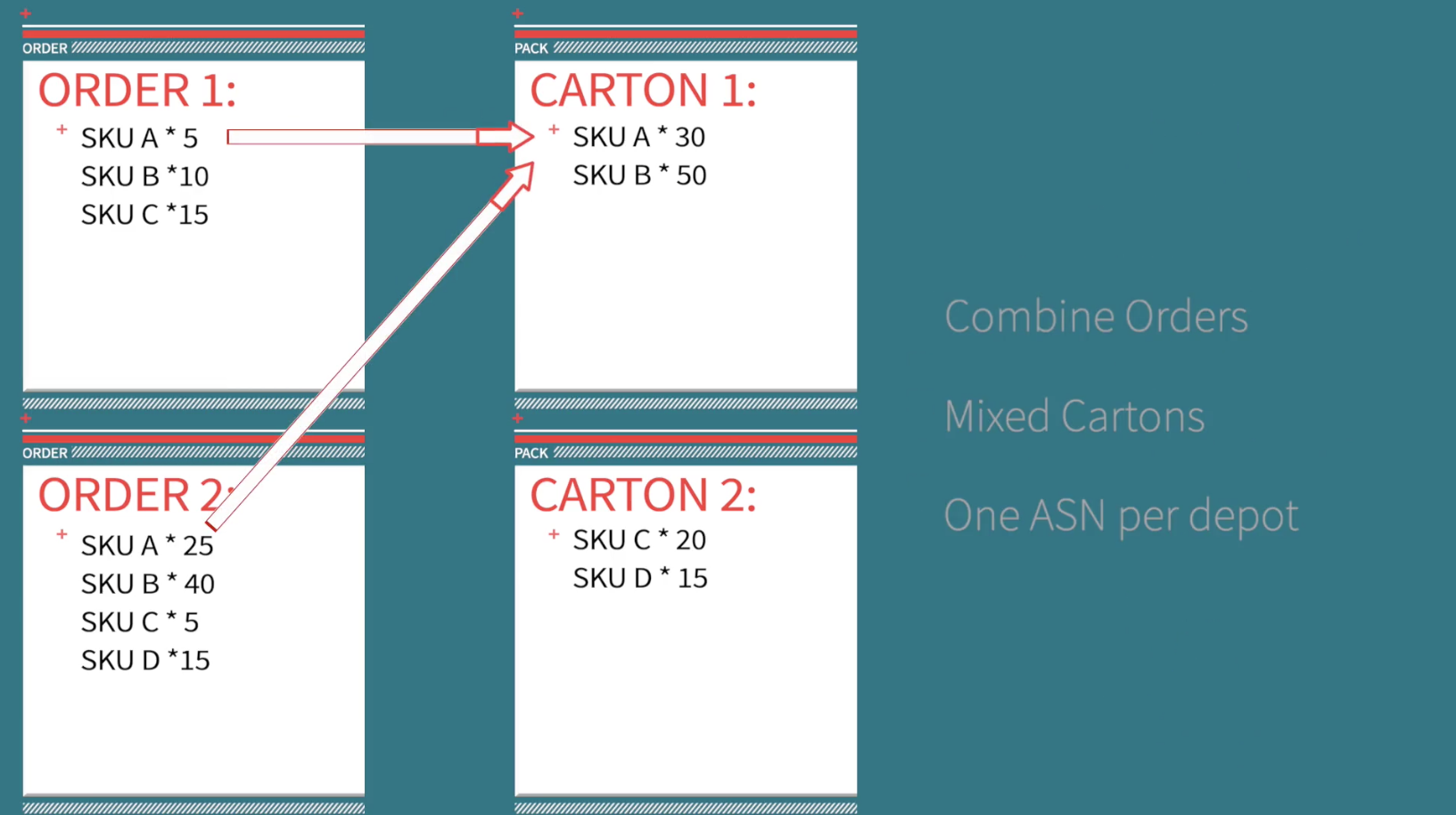 This consolidation is a great feature of KhooCommerce!
If you're not sure what is right for you, ask these questions:
How much would £0.05 or €0.06 or USD$0.10 /unit impact your profitability?
How much time do you currently spend on making ASNs?
How much do you suffer with shortage claims?
How much would you benefit from sending mixed SKU and mixed PO cartons? (consolidated per FC)
How much do you, as a company, want to invest in Amazon Vendor as a medium-long term sales channel?
Want to see a better way of making ASNs? Get a demo of Europe's leading Amazon Vendor Software.
We'd love to hear from you! Request a demo or sign up below to find out more!