6 Trends For Amazon Vendor in 2020
As we enter 2020 it's a natural time to plan how to be the most successful on the Amazon Vendor scheme. Being an Amazon Vendor in 2019 was difficult to navigate; from speculation of a move toward a "One Vendor" programme, to a large removal and subsequent reinstatement of vendors in March, all while levels of support from Amazon themselves became increasingly sparse. That being said, Amazon Vendor still represents a highly lucrative and convenient opportunity for many businesses. Vendors maintain a highly unique relationship to Amazon, and with the right tools in place larger brands have the opportunity to sell more, and more easily, than their seller counterparts, while gaining access to strong branded stores, new features and distribution.
In this article I will explore six key areas for companies to pay attention to this year in their Amazon Vendor account. I have included sources where possible, although the take-aways represent my opinions. I welcome your feedback, comments and discussion.
1. License Plate Receive - Likely to Become Mandatory.
License Plate Receive - colloquially "LP Receive" - is the process by which Amazon receive shipments into a fulfilment centre through a licence plate barcode. Scanning this label, in combination with your Advance shipping notice (ASN), allows Amazon to efficiently inbound goods into their warehouses and decrease the time they take to scan items in.
Since the introduction of the new labelling system in 2014, Amazon has been pushing its suppliers to become more compliant on barcoding and labelling regulations. Last year Amazon spent time inviting brands to calls that explained about LPR and effectively communicated this would be a 'soft requirement'. Amazon already gives companies chargebacks for poor ASN compliance, and this can often be related to LPR issues.
LP-Receive eliminates the need for Amazon to scan each item. This saves them time and suppliers shortage claims.
If you aren't using LP Receive, Amazon could well be opening up each shipment, scanning each item, and re-packaging it their end. This costs them time, and errors will be made. This can get pushed back to the Vendor in forms of 'no carton content label' chargebacks and missing item claims.
How can a Vendor become LPR compliant? This can happen through either implementing SSCC (through enabling the EDI message EDI856) or through adhering to AMZNCC.
There are four main barcoding formats accepted by Amazon into their warehouses. If you are not using EDI you are likely using AMZNCC, else SSCC is the most common EDI-Compliant method. Below the table lays out the requirement, and please visit the links for more detail.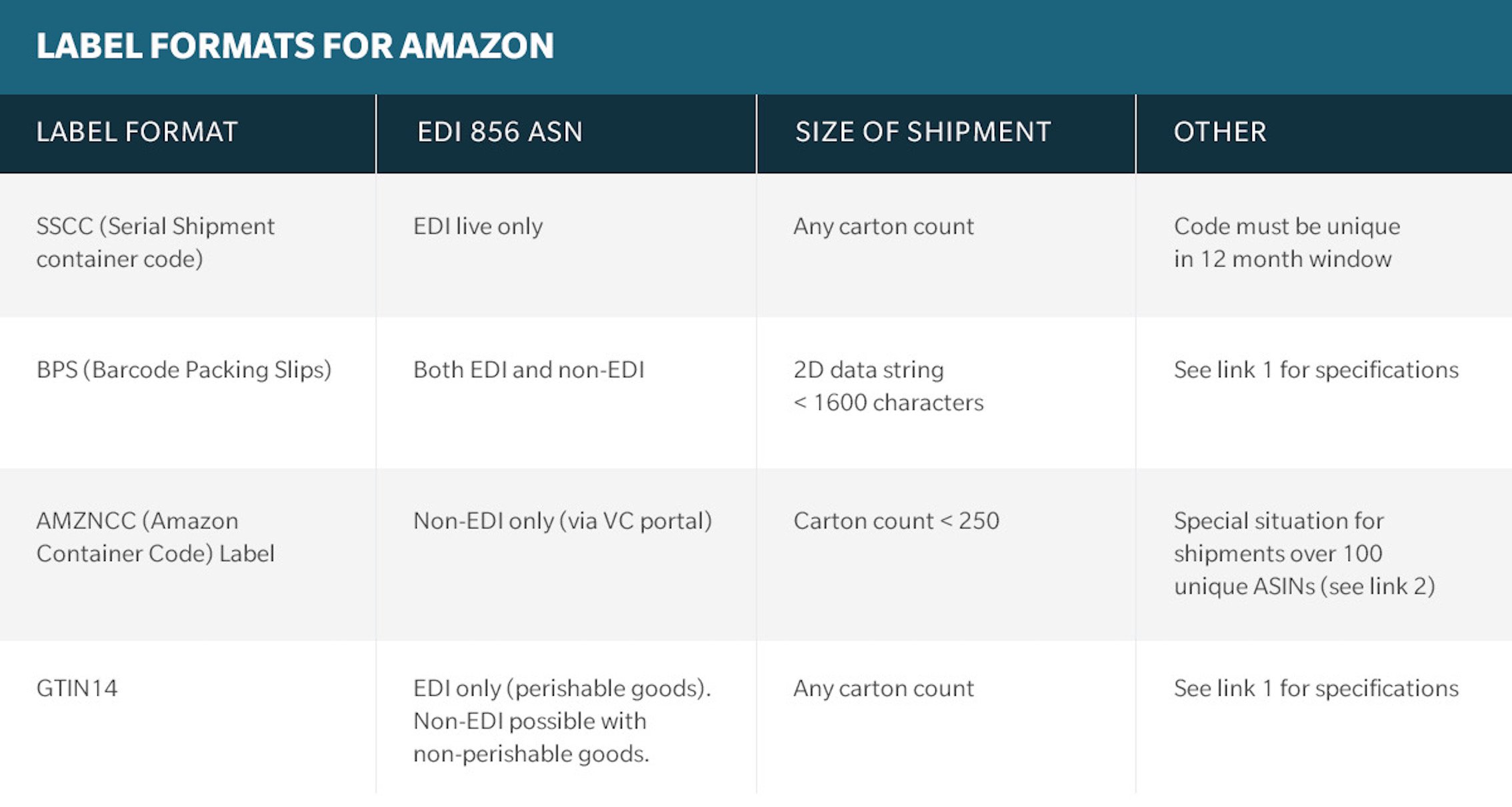 See also:
Take away: While its difficult to conclusively say LP-compliance will become mandatory, I think it's in the interests of both Amazon and the Vendor from a logistics perspective. Once the financial kick of chargebacks becomes significant many people turn to EDI and SSCC as a long-term solution.
---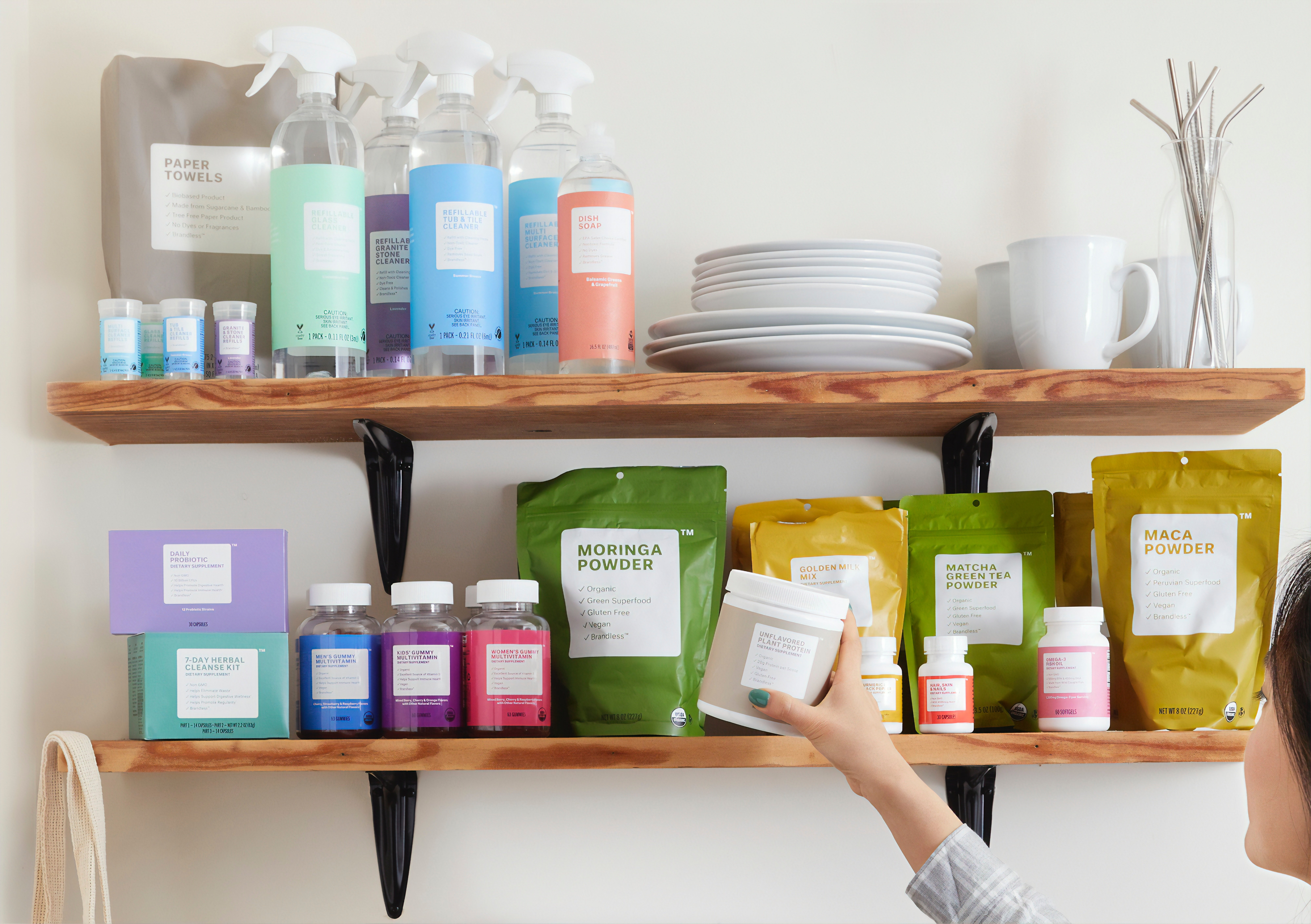 2. Increased Growth in Amazon Fresh, Amazon Pantry.
It is undeniable that pay monthly subscription services will be a large part of the future. Prime itself is one of the most successful subscription services, and recent moves from Apple in music and gaming show that large companies are looking to gain retention and dependancy in their markets.
There are two big avenues Amazon is expanding; Fresh, for perishable consumables, and Pantry, for household domestic FMCG items. (Amazon's expansion into fashion is also interesting, but not explored here.)
"Subscribe and Save" came under criticism in its early days, with wildly fluctuating prices damaging the reliability of customers to get consistent pricing for items. With the initial teething issues addressed, Subscribe and Save now presents a great way to get everyday FMCG items at discount prices in a convenient way. Then came Amazon Pantry, a service for kitchen and household (largely perishable items).
Amazon pantry represents a new way for Amazon to continue to expand into everyday life and increase convenience for the end user. Given Amazon's prime (pardon the pun) ambition is to deliver an excellent shopping and customer experience, pantry is a natural avenue for them to exploit and expand into in the future. Health and personal care saw 35% YoY growth in 2018, while grocery saw an impressive 45% YoY sales growth, with a combined value of >$8bn USD.(Source)
Given these high growth levels on Amazon Pantry, my prediction for 2020 is that these shall continue to rise as consumer habits change and more and more brands become available on Pantry.
Take away: If you're a Vendor with a FMCG range, make sure you're part of this growing platform.
Talk to your vendor account manager about adding an item range to Pantry. Note: Given the perishable nature of the goods here, it is recommended you use EDI with expiry date compatibility to ensure a successful delivery into their fulfilment centres.
Side Tip: FMCG also benefit from bundling and creating new products that go together nicely in this setup. Try mixing different SKUs for an upsell.
---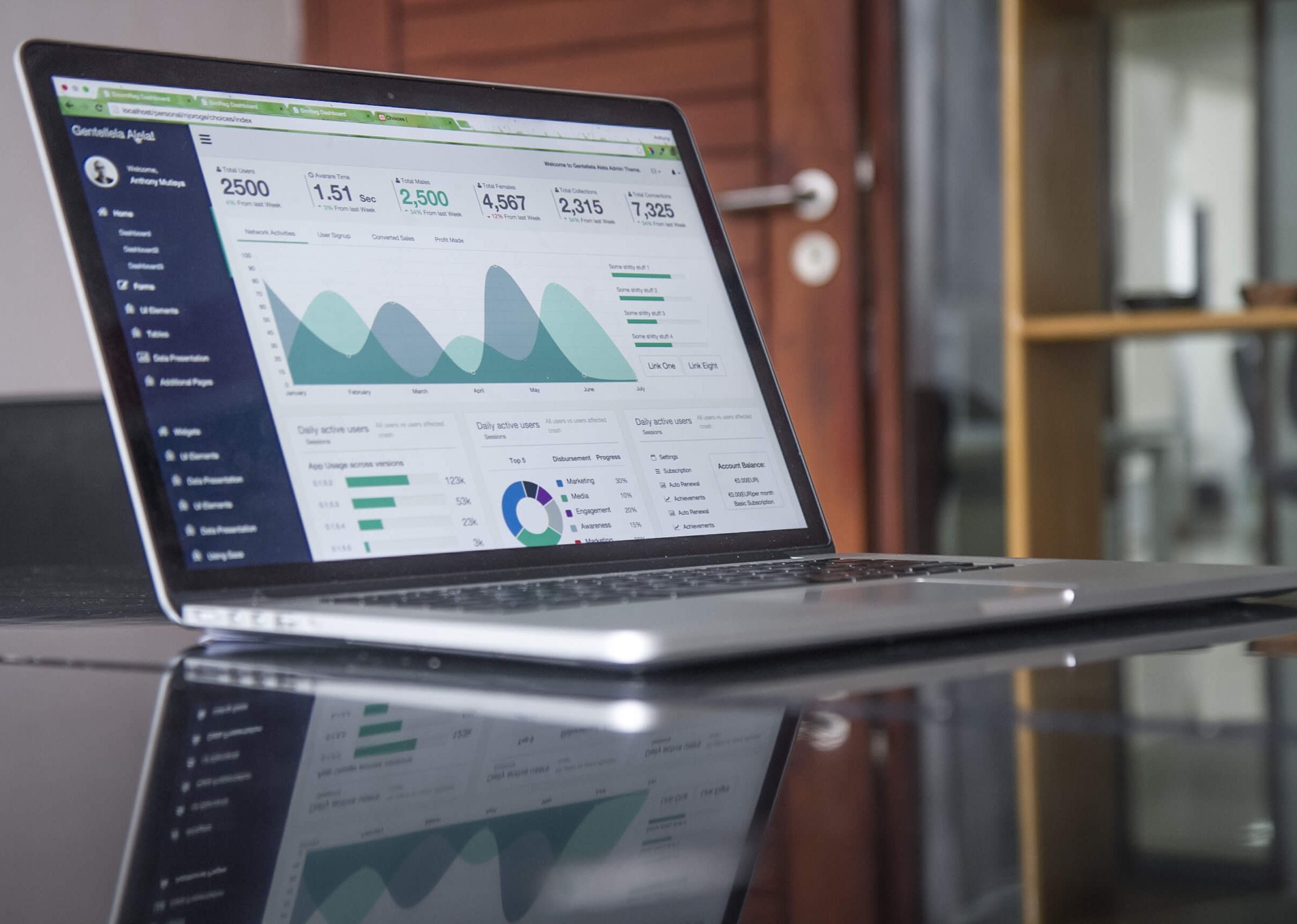 3. Sharing of Features to Amazon Sellers, but Vendors get them first
Historically, Vendors have paid lots of money to get exclusive features and insights into sales, reporting, marketing and so on. The end of 2019 rounded up a year of feature dissolution from Vendors to Sellers. The changes to A+ content, and recent expansion of the Vine Review programme, meant that sellers gained access to tools that were previously premium to the Vendor scheme.
This is a trend I fully anticipate to continue, although Vendors still hold the enviable position for new feature access. Vendors are often the largest brands operating on Amazon and given the demand for their products, Amazon will experiment with new features and offerings to help customers get an even better experience. Such examples include augmented reality shopping for home furniture, allowing consumers to visualise purchases in their homes with Amazon Augmented Reality shopping, as well as tools to join up the purchasing experience, e.g. tire change locater while on the road.They also have recently launched a sampling program, for brands to send free samples to customers (for FMCG brands). For more information on this topic please connect with Jerome.
Take away: Expect to see Vendor features and analytics continue to get shared out to Amazon Sellers. Keep your eyes out for unique and new features that set your listings and storefronts apart as a vendor.
4. Vendor isn't going anywhere, but One Vendor wouldn't be bad for 1P anyway.
March 2019 was a turbulent time for Amazon Vendors as many vendors were suddenly and without warning, de-listed from the programme. Was this the start of the end for the Vendor programme? What does this mean for 2020?
Last year's news was shortly followed by the 2018 letter to Amazon shareholders from Jeff Bezos (published April 2019), which highlighted the growth of 3P sellers vs 1P as the first topic in the letter.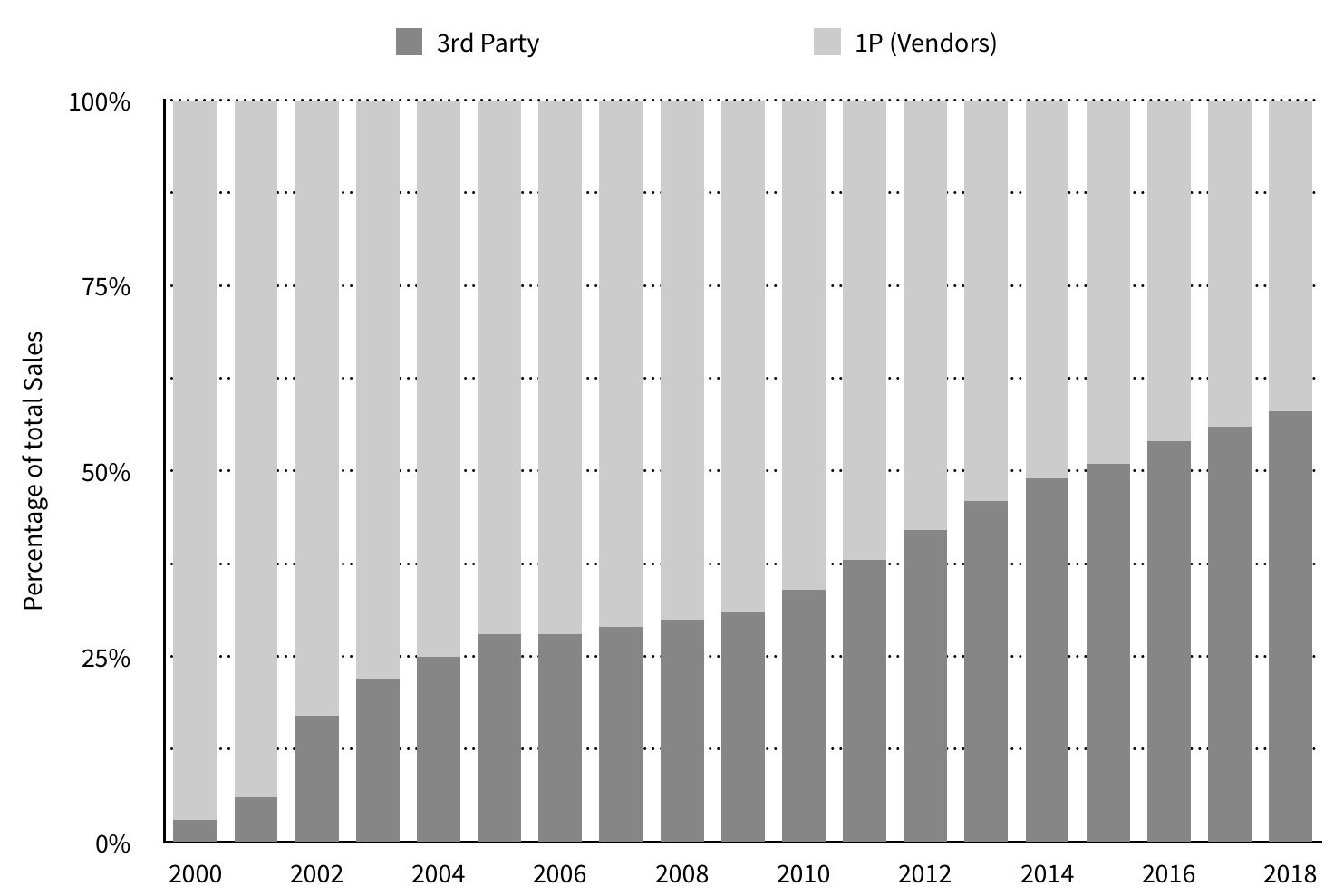 Above: Growth in share of total sales by 3P sellers on Amazon. Source
Later in the year, there came news that Nike were withdrawing entirely from Amazon in a move to regain brand control. This bold move sent a ripple through the Vendor Community. Nike, as well-established brand with a premium product range, is able to assert itself against Amazon and define a customer niche which is more geared to experience and prestige. In my opinion, this is not a move every retailer could make. The option of "just don't sell on Amazon" isn't that straightforward. If you are not selling on Amazon, it's likely one of your resellers or competitors will, and could undermine all the hard work you put into a consistent, branded message. Worse still, counterfeit or knock-off products could come under the same listing, which would result in a lost sale for the brand owner and a dissatisfied customer. Some speculate off-brand product vendors were the reason behind the large purge of vendors in 2019, and many of the proper brand owners were subsequently reinstated. From a more positive perspective, Amazon is a fantastic channel to reach a huge market and it is rare for distributors to avoid Amazon altogether unless bound by specific legal agreements.
The rumoured 'One-Vendor' Scheme would involve merging Seller and Vendor Central together and make all sellers wholesalers and suppliers to Amazon - thereby removing the marketplace model and replacing with a pure distribution model. Fulfilled-by-Amazon (FBA) does bear similarities to Vendor Central, although in FBA the items are held, not owned, by Amazon.
As a business, the Amazon Vendor scheme operates very differently and arguably even in opposition to the seller programme. Much speculation has gone into this. As Jeff Bezos said, "we don't make money when we sell things. We make money when we help customers make purchase decisions" (Rossman, J. Think Like Amazon: 50 1/2 Ways to Become a Digital Leader, McGraw-Hill Education, 2019). Merging to One Vendor could eliminate counterfeit products and guarantee higher quality products for customers. But forcing a wholesale relationship on sellers would put many of them out of the game, and reduce customer choice dramatically. Either way, Vendors are not really at much risk from either outcome, but the same principles in good account management apply - maintain your catalogue, negotiate favourable terms, be willing to walk away, and invest in a multi-channel strategy.
Take away: Vendor remains an attractive option for traditional wholesalers, suppliers and brands. Vendor is here to stay and 2020 will see Amazon build more direct wholesale relationships with brands. In my opinion Amazon will seek to work more with brands and suppliers than distributors, leading to the point below.
5. Brand Registry is more important than ever
Brand Registry is a great way to consolidate your marketplace and grip over an uncontrollable set of competitor listings. Registering your brand allows you to stake out your products, trademarks, gain exclusive listings and much more. This is often a large task for big companies and is a dedicated project for marketing teams. With Amazon's emphasis on having a direct relationship with brand owners, this will become ever more important in 2020.
In spite of this desire from Amazon, many large brands still elect to sell via managed services to different regions, and there is often good precedent for that for logistical reasons, as they do not want to handle the day-to-day hassle of multiple POs and shipments. Furthermore, some brands will never openly sell direct to Amazon to avoid appearing to undermine their historical distribution and retail networks. Amazon will want to remove as many middle-men as possible, becoming the sole marketplace and distributor direct from brand to customer. This means that if you do not hold the exclusive license to a brand to resell on Amazon for a region, you may want to secure that and get brand registry*. If you as a Distributor are confident your supplier has no desire to sell direct to Amazon then you are safe. Other marketplaces however, are much more driven by cost and availability instead of brand loyalty, and therefore these may well be on rocky ground in the future of the vendor scheme.
*If your brand has been claimed by someone else, please get in touch to have this resolved.
Take Away: Brand owners - ensure you have registered and certified your ranges to defend your listings. This will also decrease dilution of their ordering alternative SKU codes for your products. Distributors who are Vendors - work to bolster your supply chain and relationship with the brands to ensure that if Amazon come knocking you are confident the brand themselves know why they do not want to sell direct themselves.
---
6. Increased focus on Frustration-Free Packaging, Customer experience
"Packaging" has become a dirty word - associated with environmentally-un-friendly materials and a bland brown box. This year is likely to hold a further emphasis on developing an exciting branded experience when people receive your goods.
Frustration-free packing (FFP) and Ship in Own Container (SIOC) are topics that hit hard in October 2019, and will continue to be a focus for logistics and marketing departments into Q1/2 of 2020. Ensuring that packages arrive safely into Amazon, that the consumer can easily open them, and that packages reflect your brand, are a premium move that increases customer experience and reflects excellence on the part of the Vendor. There are many packaging tricks Vendors can take to achieve this, such as bundling, forming a moulded shell out of recyclable material, creating quick-open packages and using a variety of ergonomic testing schemes to trap packaging design.
The standards for packaging for Amazon come in three tiers (Tier 1 is the best):
Tier 1: "Frustration Free Packaging" (FFP)
Tier 2: "Ship in own container" (SIOC)
Tier 3: "Prep Free Packaging" (PFP)
Note: for Tier 1 FFP, packages must be in 100% recyclable material.
See also
Take-way: It is important for Vendors to review their packaging, logistics and marketing to ensure that goods are being shipped to Amazon in a way that reduces chargebacks and provides a coherent customer experience.
Summary
To close, 2020 is set to be another blockbuster year for sales on Amazon.
If you're a brand owner selling to Amazon as a Vendor, this is the year to consider becoming LPR compliant, embracing Pantry, new features and developments in packaging, strengthening your direct relationship with Amazon and maintaining control of your brand.
If you'd like to discuss Amazon Vendor EDI, Vendor account management, or anything discussed here, please get in touch!
Now for a freebie!
If you like Excel spreadsheets - then good news! We have a free download for you to help keep track of time spent on Amazon-related tasks that will help you organise your time and focus the business on the importance of Amazon.