Amazon Vendor announce new chargeback to ensure POs are down confirmed accurately.
New Chargeback Introduced
Amazon announced this morning that a new chargeable would be introduced called 'Down-confirmed'. This is a sub-type of the chargeback PO On-Time Accuracy and is intended to reduce the amount of downward stock adjustments on confirmed Purchase Orders.
What change will this make to processing your Amazon Vendor purchase orders?
Most vendors accept orders initially in the Vendor Central portal and then adjust the accepted amount when the order is fulfilled. Any adjustments to the accepted amount more than 5 days into the start of the shipping window will now incur a Down-confirmed chargeback.
In KhooCommerce, we have a number of tools to help managing future orders and adjustments to shipments easy. These include:
Ability to fully accept an order for the future regardless of stock situation
Seamless adjustment of Accepted quantity on ASN send
Clear indication of shipping window on each PO and overdue highlighting.
Below; email from Amazon introducing the DownConfirmed PO-on time acceptance chargeback.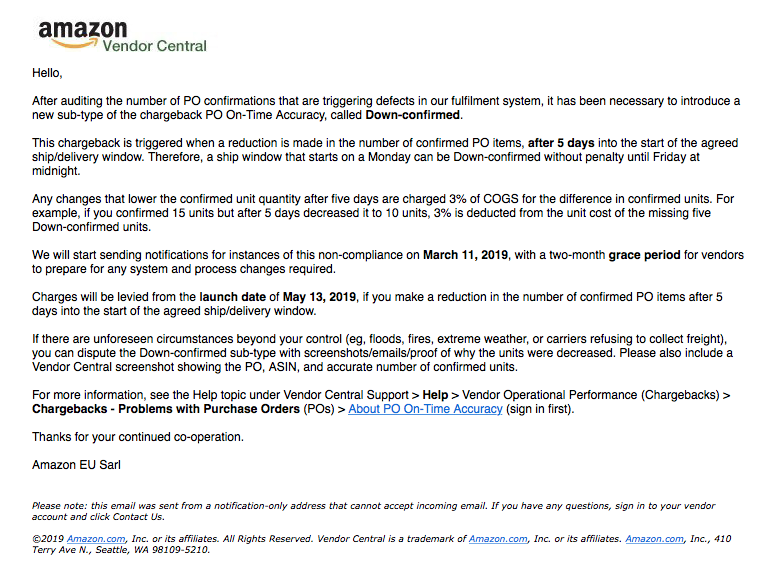 Could an EDI stock and order management system help?
As a vendor, you will want to have a clear handle on what is in stock today and also adjust your acceptance to Amazon when the shipments are dispatched. You can either have lots of administration staff managing this, or have a system that manages your ASN and POA messages to do it all for you.
Facing these shorter PO acceptance timescales, you may wish to consider using software to help manage your Amazon vendor orders and purchase order acknowledgements. For our vendors, we provide software which uses the EDI integration to process Amazon Vendor purchase orders and highlight outstanding orders, or those requiring attention, stock or confirmation.
If you'd like to know more about how we could help streamline your Amazon Vendor purchase order processing, do not hesitate to get in touch.