Q4 2022 Trends for Amazon Vendor
Amazon Trends, 2022 Q4 - 2023 Q1 / Amafest Wrap Up
Amafest was a great event for Amazon Vendor and Sellers to get together to share best practice on the industry and latest trends. Here are our takeaways from the event.
1. Markets are expecting a big reduction in retail sales this year. (Shipstation)
After a blockbuster year in 2021, many companies are tracking behind in sales relative YoY. This is a combination of high inflation, reduced spending by consumers and a bit of bounce-back after covid lockdowns. Amazon recently announced their Q3 results, and reduced Q4 projections, sending shock waves through their shareholders. 
Shipstation shared data suggesting that UK markets are expecting to reduce peak retail spending by 22% this year, but it was down across the major EU5.
 The worst affected categories are expected to be Apparel, Electricals and Toys: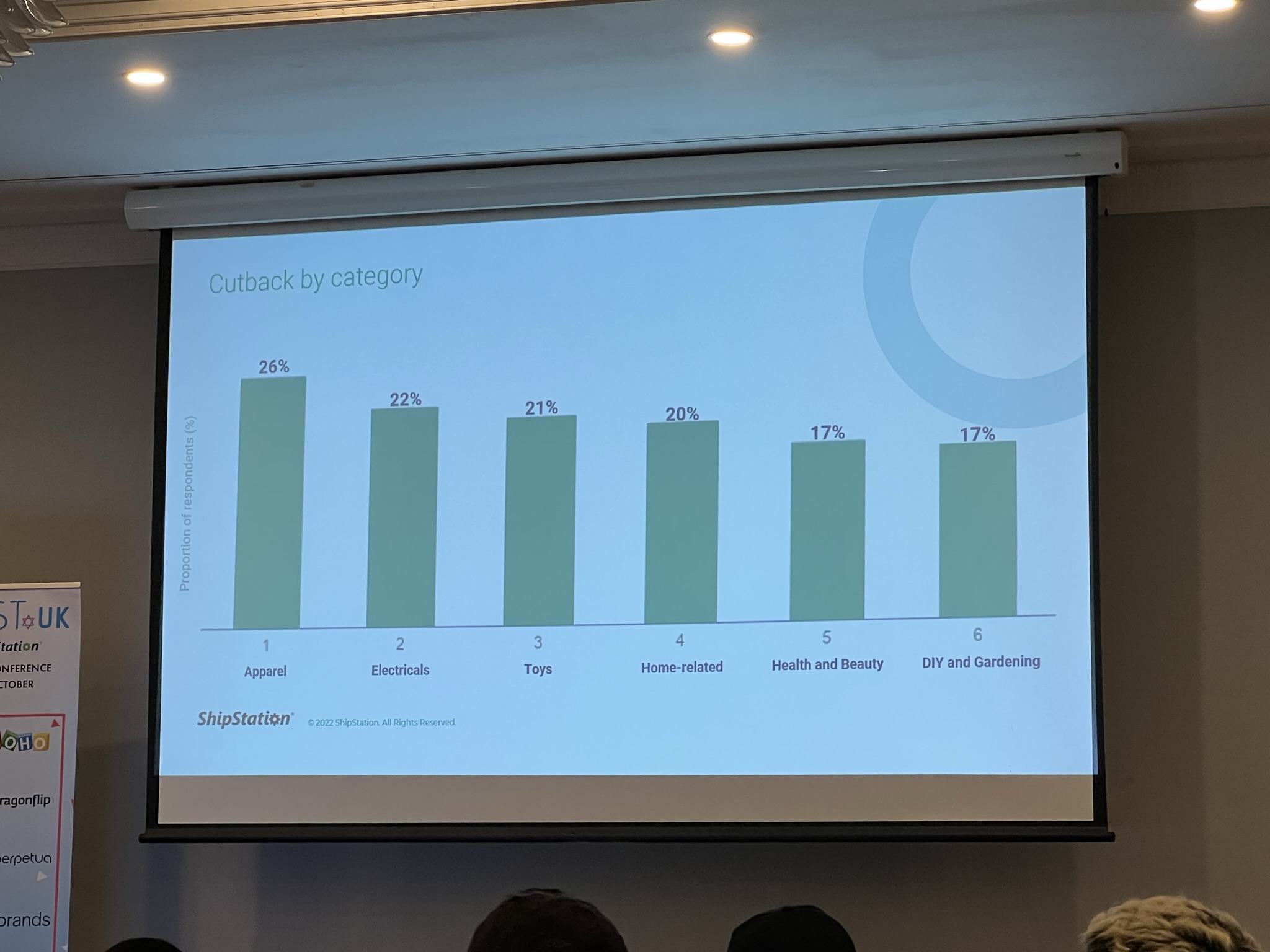 2. User Generated content is a growing factor for eCommerce (Perpetua, Mark Wang)
Unlike our normal focus on Amazon Vendor, this session was focussed more on brand building, awareness and D2C. Key Takeaways from this include the high dependancy on Social Media, with adults spending on average 147 minutes per day on some form of social platform. TikTok and Instagram take centre stage over Facebook. 
User Generated Content (UGC) is driven from influencers and fans that engages much better than content from a brand themselves, due to high engagement, relatability and trust. UGC is typically less polished, non-commissioned and more trusted than branded content, and can be organically made from a loyal user base. Brands can work with influencers to spark up UGC, but brands must look carefully into the influencer history, ethos, engagement rate and follower demographic to see if it aligns with their company. 
3. Focus on Negotiations with Amazon Vendor (Martin Heubel, Consulterce)
Amazon Vendor Negotiations are central to each calendar year for a vendor. Amazon has a very long-term view when engaging with a company, and is often happy to accept a short term loss for a long-term win.
Don't accept short term wins for long-term losses. Amazon plays the long-game.
There are principles that a vendor can use to help balance the power when negotiating with Amazon.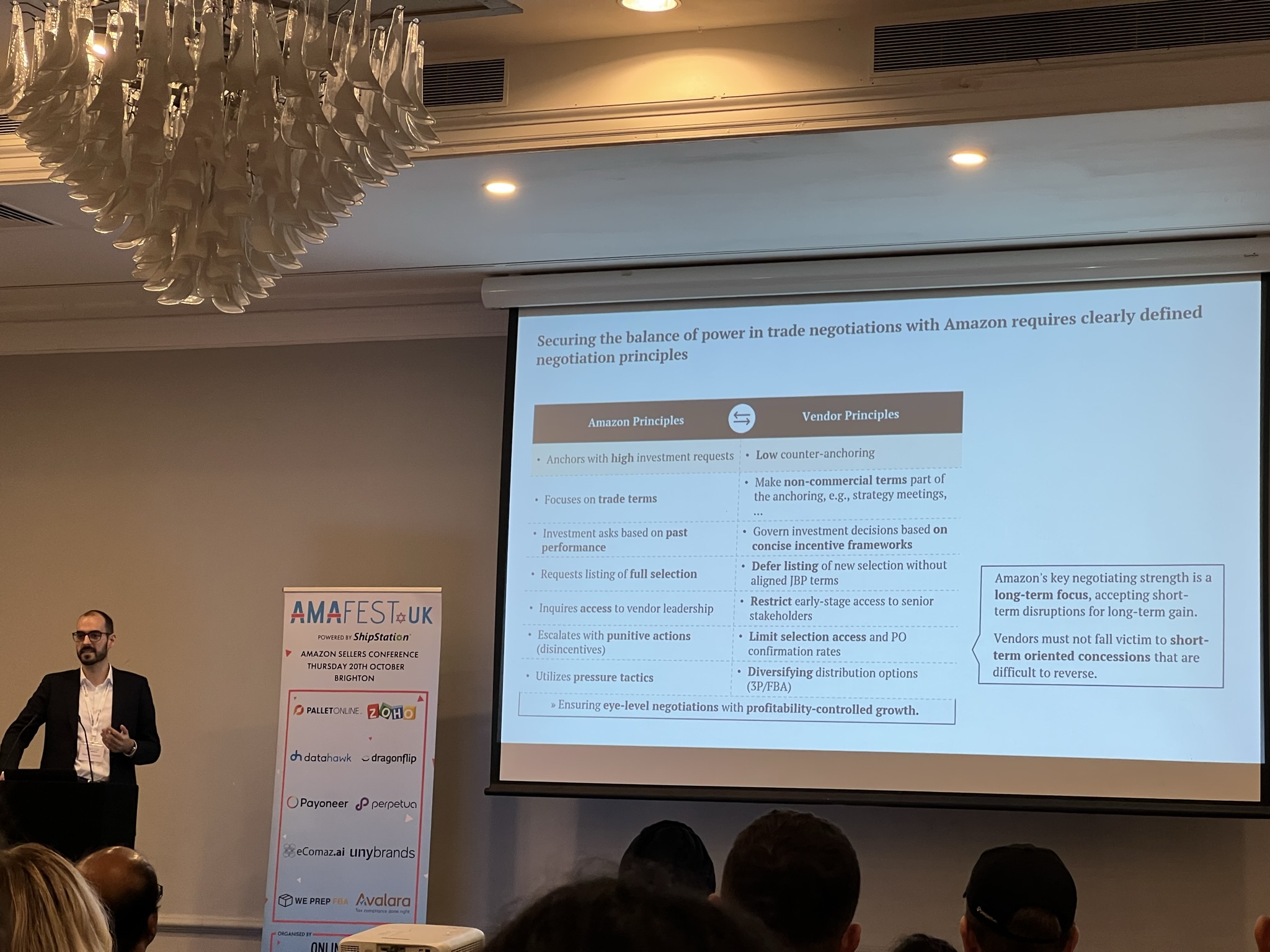 4. Back to basics on Listing content (Chris Shelton, Sealskinz)
Focussing on consistency and brand image, particularly on your main products driving growth, is essential to a successful Amazon store. Chris shared how SealSkinz had a variety of brand placements on their Amazon store, and simple spelling variations can lead to a fragmented Amazon presence. 
Also noteworthy is a healthy interest in the chargebacks, claims and deductions on your account (something we at KhooCommerce are very passionate about!) 
You have to wear many hats when managing Amazon. Accounts, Finance, Operations, and more!
5. Expanding into USA and new markets (Carina, eCommerce Nurse)
 What are the main aspects to consider when expanding to a new market? Carina from eCommerce Nurse broke it down to:
Product and Market Research, Competition
It's important to know if your product will be a success in a new market. You should consider the current market leaders in your category, understand their price point, as well as how the marketing is different. Don't simply assume that because your product is a success in one market it will immediately succeed well in another.
Play to your strengths. Having determined your competition and scoped the market, its important to stick to what you excel at and push that as your main messaging.
Additional Considerations
This includes compliance requirements, certification, packaging, sales tax obligations, trademarks, payment providers, fulfilment and translation. These are typically provided by service providers, though companies can do their own research. 
Translate and localise your content. Keywords do NOT translate!
 If you want help with international expansion, please contact us and we can refer you to our partners who could help out! 
6. Product Imagery sells (Chris King, PackShotsDirect)
A great session highlighting the need for powerful imagery on items. Use a mixture of lifestyle images, icons, and infographics to make it clear to the customer what the product does. If you have an expensive model, use icons and tables in infographics to differentiate the models to help a customer understand why they should purchase one or the other. 
Monitor, Modify, Repeat. Always be agile with your photography strategy.
7. Focus on operational excellence to stay ahead of the competition. (Dr Heloise Finch, SellBeyond)
During the pandemic, the companies that thrived and grew most were those that analysed their operations, had a holistic strategy, and optimised their processes. 
Want help with Amazon Vendor?
Automate your processes and dispatch workflows with KhooCommerce! Contact us and share your requirements, see how we could help.