Prevent PO on Time Accuracy Chargebacks - Proactively!
Big news! We've added a new feature to help proactively manage and prevent Down Confirmation issues before they occur. 
Some background:
Purchase Order On Time Accuracy Chargebacks can be very expensive for 1P vendors. There are 3 sub-types that occur when there is some non-compliance on the PO management for the orders. 
Not on Time: The shipment arrived outside of the requested delivery window. 
Not Filled: You didn't send items to Amazon, but didn't cancel them on the PO, either. This means Amazon closed the PO and marked the items as not fulfilled. 
Down Confirmed: You didn't send items to Amazon, did cancel them on the PO, but the cancellation was too late. This is usually >5 days into the shipping window starting. 
Often Vendors have many POs open at once. It's quite normal to have over 100 orders open for a given week and many thousands of PO items to deal with. With all this going on, how do you prioritise which POs to do next? By the biggest value? The most items? The most profitable? 
The solution:
One thing you want to bear in mind is the potential charges for non compliance. We've launched a handy dashboard that helps to identify potential issues on upcoming POs, and prioritise them according to the business impact if there is a problem. This helps you prioritise which POs and items to check before they are too late.  
Using the dashboards helps us identify issues before they occur. It's saving money each time we check and these decisions really add up when you have lots of orders to get out the door!
- Ryan, Warehouse Operative
Using these, you can identify top issue SKUs, top issue POs and the single most important item to check on as your top priority.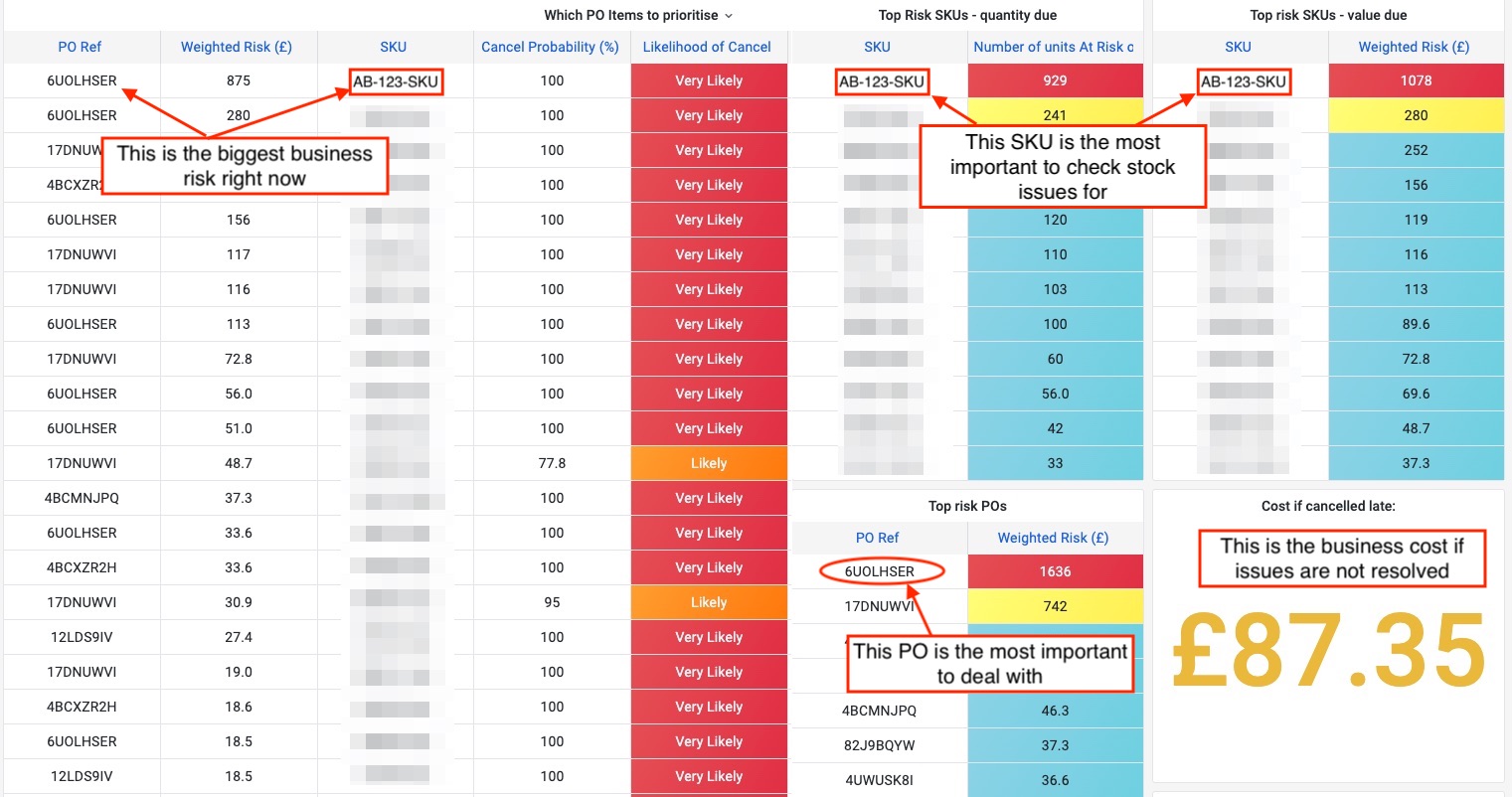 Since using KhooCommerce, our Amazon dispatch team went from needing 9 people to just 3. These views give me even more insight to make us operate smarter, faster and with better margins.
- Mike, Warehouse Manager
Want to try it out?
This feature is only for KhooCommerce customers using the shipment and analytics modules.  Want to see how this could work for you? Send us a message - We'd love to show you how this all works and revolutionises the way you do pick, pack and dispatch for Amazon vendor.