Using KhooCommerce is second-to-none. Processing orders and making shipments used to take 20 minutes per order - now it's 3 clicks! With a growing account that's been a real boost to our speed and allows us to sell more. There is always someone to talk to, and I can always pick up the phone for any problems we have.


Robbie Christie, Gtechniq Ltd
275000000 $ Order Value Managed
250000000 Items Processed
200000 Cartons Shipped
50 Hours Average Weekly Time Saved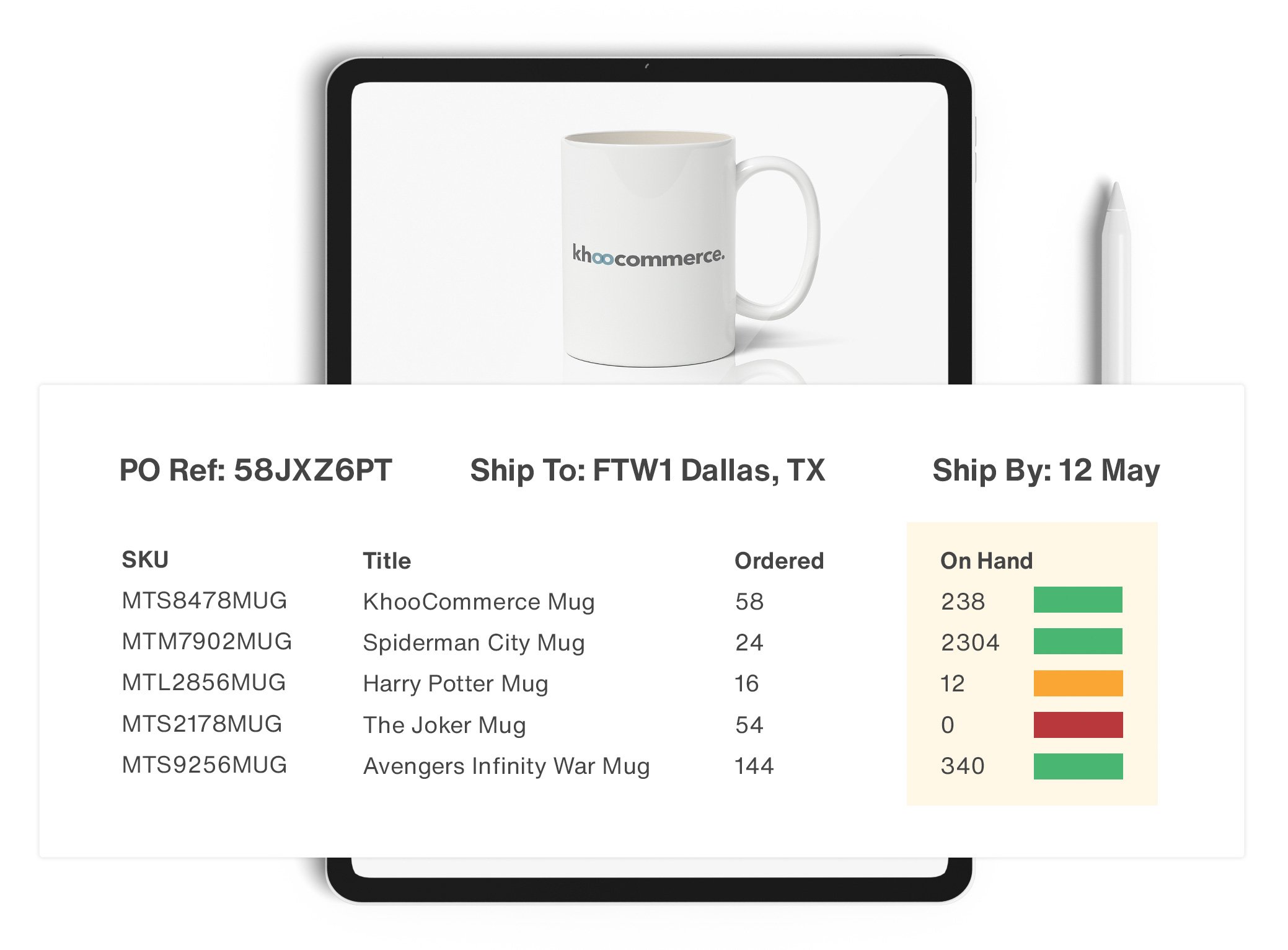 Process Hundreds of POs With Ease.
✔ Process POs in bulk
✔ EDI 855 PO acknowledgement
✔ Ready for warehouse to pack
✔ Works with any ERP
✔ End-to-end EDI efficiency
What does the KhooCommerce Amazon Vendor EDI Implementation do?
Amazon Vendor EDI Integration – EDI POs are pulled into the KhooCommerce system
Purchase Order Acknowledgement – Bulk Allocate how orders are accepted
Maintain Inventory Cross Channel – Gain an overview of stock across channels
Group Shipments by Amazon GLN – Reduce shipments through sending consolidated ASNs
Pack Compliantly – Implement License Plate Receive and Reduce Packing Chargebacks
Shipping Notices & Invoicing – Automatically send Amazon Shipping notices and Invoices
Save time. Reduce Chargebacks.
Move away from intensive, manual processes that aren't scalable.
Save hundreds each month in administration and chargebacks.
Amazon Vendor EDI Integration
The EDI messages the KhooCommerce software will enable are as follows:
Purchase Order (EDI850: Incoming Purchase Order)
Purchase Order Acknowledgment (EDI855: Purchase Order Acknowledgement)
Invoice (EDI810: Invoice)
Advance Shipping Notice (EDI856: Advance Shipment Notice)
Specialist Approach
Joined-up process unlike other EDI systems
Personal approach, we will listen to you
Training for your teams, process management
24/7 dedicated support available
More than Simply EDI
KhooCommerce empowers you to do far more than a simple EDI system. Automate day-to-day functions, bulk-allocate orders, pack mixed ASIN shipments and generate labels. Automatically raise invoices, create pick lists, send details to warehouses.
Get your demo of the most advanced Amazon Vendor Order Processing System today.
What does the KhooCommerce Amazon Vendor EDI Implementation do?
Receive Orders Automatically – New orders are pulled into the KhooCommerce system
Control the Orders You Accept – Choose which orders are accepted or rejected
Maintain Inventory Cross Channel – Gain an overview of stock across channels
Group Shipments by Amazon GLN – Reduce shipments through sending consolidated ASNs
Pack Compliantly – Implement License Plate Receive and Reduce Packing Chargebacks
Shipping Notices & Invoicing – Automatically send Amazon Shipping notices and Invoices