Amazon Vendor announce new chargeback to ensure PO's are confirmed faster
New Chargeback Introduced
Amazon announced this morning that a new chargeable would be introduced called 'Down-confirmed'. This is a sub-type of the chargeback PO On-Time Accuracy and is intended to reduce the amount of downward stock adjustments on confirmed Purchase Orders.
What change will this make to processing your Amazon Vendor purchase orders?
If you are an Amazon Vendor who is currently only providing Amazon with a single Purchase Order Acknowledgement then this shall mean you only have 5 days from the delivery Date to confirm your PO in it's entirety before facing a penalty.
If your Amazon Vendor account is setup to accept multiple Purchase Order Acknowledgements then this will mean you have only 5 days to finalise your POA. This could be particularly difficult if you are a brand which relies on the delivery date window to confirm your stock levels and make any orders from your supply chain.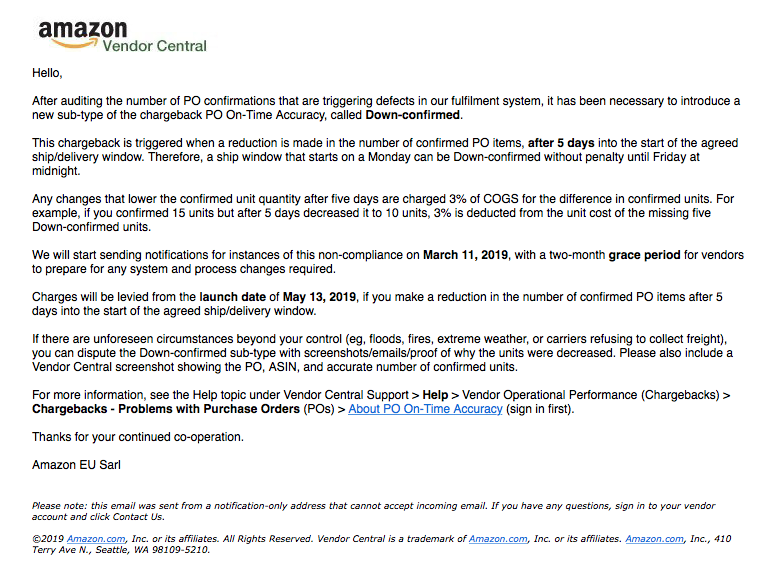 Could an EDI stock and order management system help?
Facing these shorter PO acceptance timescales, you may wish to consider using software to help manage your Amazon vendor orders and purchase order acknowledgements. For our vendors, we provide software which uses the EDI integration to process Amazon Vendor purchase orders and highlight outstanding orders, or those requiring attention, stock or confirmation.
If you'd like to know more about how we could help streamline your Amazon Vendor purchase order processing, do not hesitate to get in touch.